What are harvest control rules?
Harvest control rules (HCRs) are the operational component of a harvest strategy, essentially pre-agreed guidelines that determine how much fishing can take place, based on indicators of the targeted stock's status. HCRs range from basic, constant catch strategies—under which catch levels do not change—to complicated, multistep rules that set allowable catch based on triggers.
---
Empirical vs. Model Based Harvest Control Rules
Empirical HCRs: Indicators come from one or more direct measures of stock status
Examples:
Abundance survey
Catch per unit effort (CPUE) index: Calculations of how much effort it takes to catch a particular amount of fish
Model-based HCRs: Indicators are based on models
Examples:
Abundance level that is estimated by a stock assessment model
---
How a Harvest Control Rule Works
Stock status can be represented graphically by what is known as a Kobe plot. The example below shows a basic HCR. The fishery's ideal state is green, its cautionary state is yellow, and the state to avoid is red. The HCR has the following specifications:
If biomass is below BLimit, suspend the fishery and institute a scientific monitoring quota until the limit is reached or exceeded.
If biomass is between the limit (BLimit) and the target (BTarget), reduce fishing mortality in accordance with the rebuilding phase of the HCR.
If biomass is greater than or equal to the target (BTarget), fish at the target mortality rate (FTarget).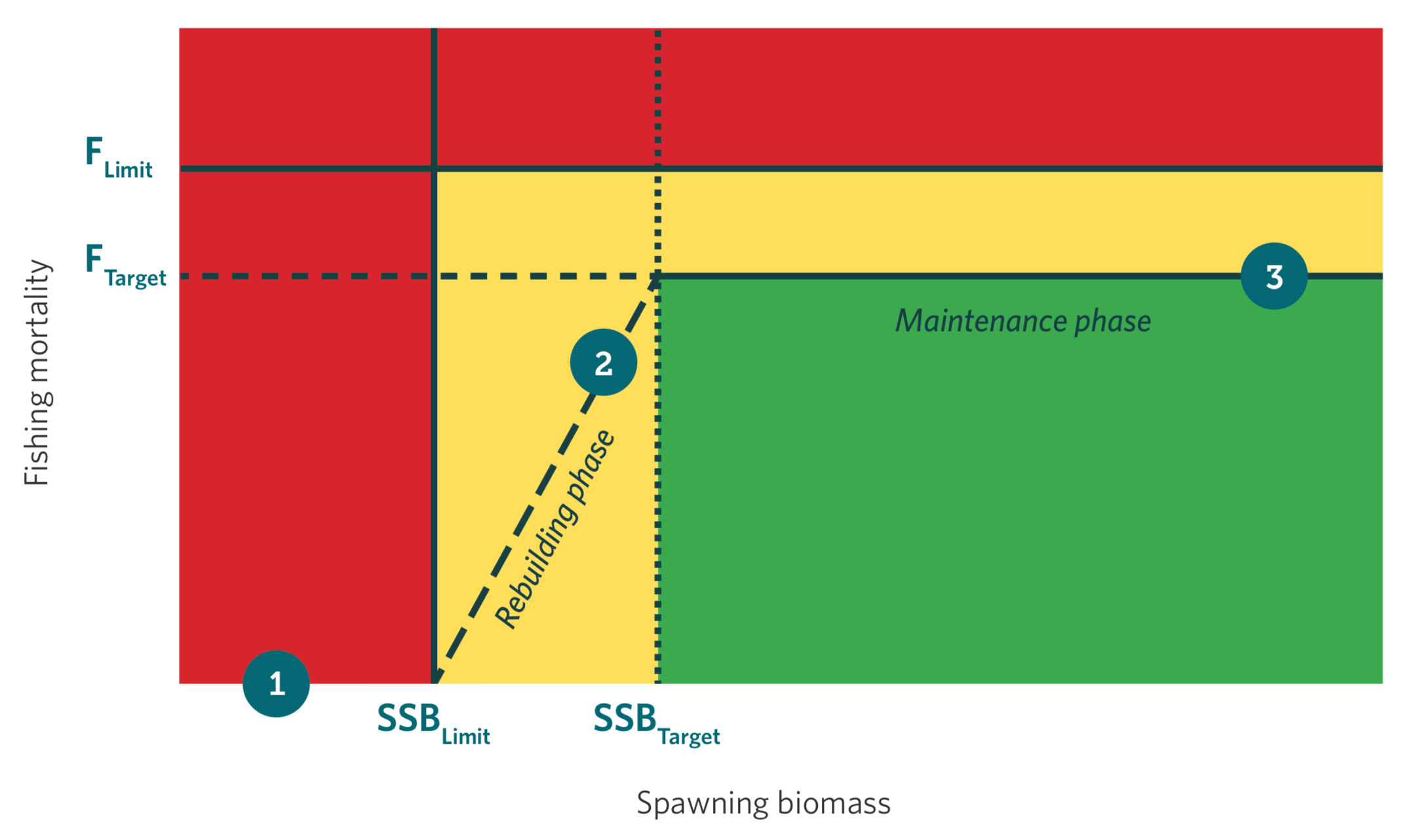 ---
Why Harvest Control Rules?
Harvest control rules provide more benefits than the traditional approach of conducting stock assessments and then negotiating fishing limits or quotas. Pre-agreed management actions taken in response to stock status indicators increase the efficiency and transparency of management. They also help avoid costly and difficult political negotiations.
---
FACTSHEET: Harvest Control Rules; Language Options: Español 🇪🇸 • Français 🇫🇷 • 日本語 🇯🇵