Video Language Options: Español 🇪🇸 • Français 🇫🇷 • Português 🇧🇷 • 汉语 🇨🇳 • 漢語 🇨🇳 • عربى 🇲🇦
What are harvest strategies?
Harvest strategies, also known as management procedures, are pre-agreed frameworks for making fisheries management decisions, such as setting catch limits. They are akin to agreeing to the rules before playing the game and shift the perspective from short-term reactive decision-making to a proactive approach designed to achieve a long-term vision for the fish and fishery.

Harvest strategies include the following basic elements:
Management objectives that set the vision for the fish population and fishery.
A monitoring program to collect data.
Indicators of the fishery's status and population health, with associated reference points.
A method to assess those indicators, such as an assessment model or a simpler approach using catch per unit effort.
Harvest control rules (HCRs) that set fishing opportunities, which could include catch limits and size limits, depending on the value of key indicators relative to the reference points.
Harvest Strategies:
Understanding How the Process Works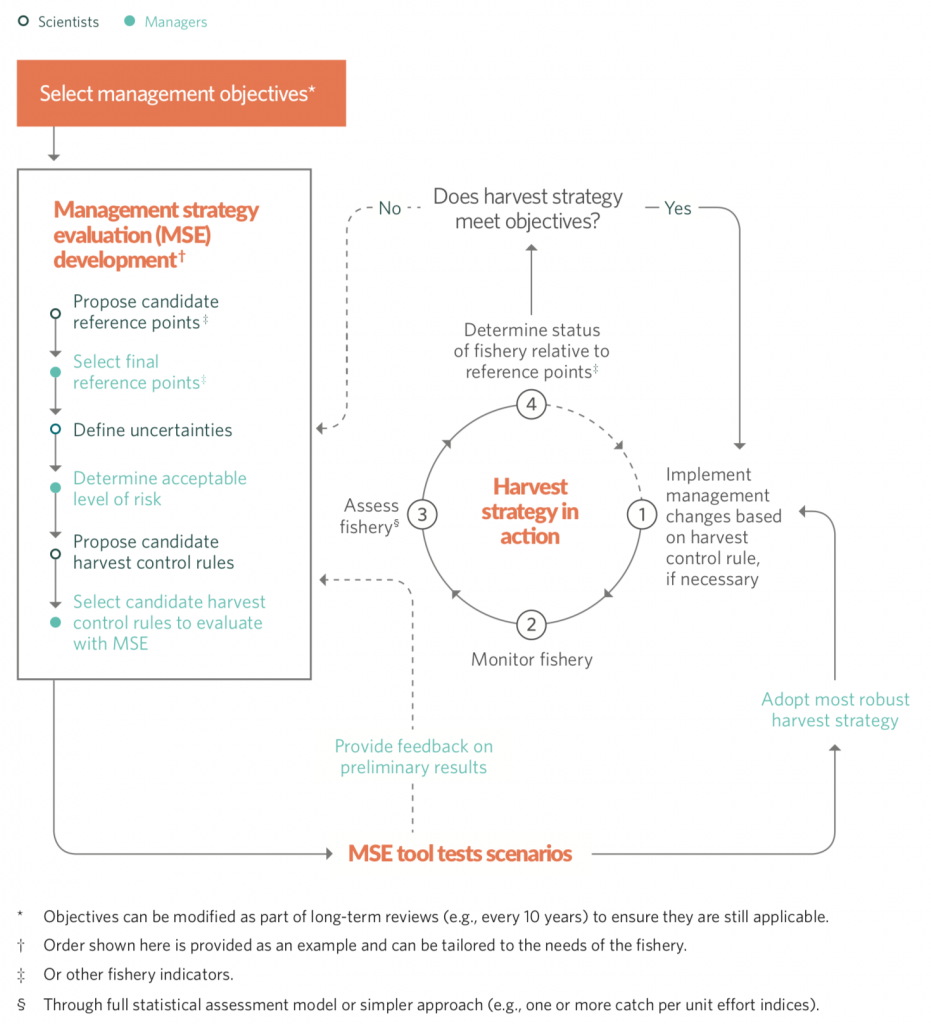 If designed correctly, harvest strategies benefit both the fish and fishermen (see below for the advantages of HS- based management). Recognizing the effectiveness of these tools, many international fisheries management bodies are developing or implementing strategies appropriate for their fisheries.
Advantages of Harvest Strategies Over Traditional Management
Effective harvest strategies can:
Offset natural variability, scientific uncertainty, and political influence.
Account for risk and allow for balancing of trade-offs.
Avoid time-consuming and costly negotiations in response to each stock status update.
Allow managers to act swiftly and efficiently to ensure the health of the resource and long-term profitability.
Increase market stability and improve industry's ability to plan because management decisions are predictable.
Give all stakeholders a clear, long-term vision of a sustainable stock and fishery.
Adhere to best practices of modern fisheries management, consistent with the United Nations Fish Stocks Agreement, the Food and Agricultural Organization Code of Conduct for Responsible Fisheries, and the Marine Stewardship Council's certification standards.
Effectively implement the precautionary approach.
---
FACTSHEET: Harvest Strategies: 21st Century Fisheries Management; Language Options: Español 🇪🇸 • Français 🇫🇷 • ไทย 🇹🇭 • 日本 🇯🇵 • Português 🇧🇷 • 汉语 🇨🇳 • 漢語 🇨🇳 • 한국어 🇰🇷 • عربى 🇲🇦
FACTSHEET: Harvest Strategies: The Next Phase of Fisheries Management; Language Options: Español 🇪🇸 • Français 🇫🇷 • 日本語 🇯🇵 • ไทย 🇹🇭